Mechanics
Become part of our professional team at MAN Truck & Bus Danmark
Like us, are you as passionate about trucks, vans and busses - and do you want to work with the latest technology at one of the leading brands in the industry?
We are very busy at our workshops, therefore we are looking for mechanics to service our trucks, buses and vans, including ambulance and rescue vehicles for Falck and the police.
We have MAN workshops in Greve, Avedøre Holme, Tilst, Kolding, Padborg and Esbjerg as well as a number of service partners throughout the country.
At MAN, we focus on well-being and cooperation. We are a close-knit team whose aim is to create a good, ecxiting and educational workplace. We are curious about new challenges and, not least, we are there for each other and for our customers.
When you are a mechanic with us:

You are helping to keep MAN's customers on the road
You understand that the quality of your work is cruicial for our own and our customers' success
You combine technical work with IT technical challenges in a strong and humorous team, with oil on its fingers and the customer at the center
You can see yourself in a large international company and in a reputable workshop with the very latest equipment
You want to go in depth with your profession and become a full member of the TRUCK LIFE-club – a rare club with lots of cool workshop jargon
King of the road

Our vans and trucks are designed according to the latest technology, and although it's a long way up to the cab, we've kept our feet firmly planted on the workshop floor. In other words, we are completely ordinary people who love our profession and who are proud to work with the most complex constructions and repairs.

You will do both ordinary service and maintenance but also specially built ambulances and/or trucks with advanced rescue equipment. It can be everything from horns to safety equipment and engine service, new equipment, lights, locking systems, fire pumps, hydraulics and everything else. 

You will of course receive additional training and education in working with MAN's vehicles.

Write unique skills on the CV
When you become part of a specialized company, you of course also have the opportunity to specialize yourself via our training programme. Here you can gain completely new skills, for example, electric vans, electric trucks and electric buses with the latest technology and IT. If you are at a point in your working life where you want to develop and specialize in the future, there are plenty of opportunities for that here with us.


Trucker's World by MAN

Certain skills are required to become a member of the TRUCK LIFE-club.

It is a requirement that you are a trained mechanic in trucks or cars, lastbiler eller personbiler, preferably experience with vans - and you may have recently completed your education. 
You have worked with or have good knowledge of preparing and building chassis as well as equipment and accessories 

You are familiar with using a computer as a tool
You are important, and the quality of your work is crucial to both our own success and that of our customers. That is why you are careful with your work and quality conscious

It is not a requirement that you speek Danish, but you must speek English at a good level
You love variety and can possibly be part of our evening shift
It will be challinging...

You will be part of an experienced mechanic team, that is characterized by good cooperation
You help develop a good social network with your colleagues
You help keep MANs many customers running
You are good talking with customers – also the foreign ones
You love an exciting and versatile working day in a busy workshop 
You want to further educate and improve your skills within the profession
You can identify with our core values, where precision in work – a polite and welcoming dialogue – correct execution of tasks the first time are important elements 
What do we do to make you succesful....

The very first we do is to ensure your basic needs. We do this by offering you a good pension scheme and health insurance. 
We ensure that you get a good knowledge of MAN vehicles and provide you the best training at MANs own service school with specially trained instructors.
We offer good working conditions with the latest tool equipment. 
We have a good daily dialogue and a supportive management present.

Furthermore, you will be part of a well-established, international and professionel team. We have competitive benefits combined with a focus on personal development, which we believe helps to create the motivation you need to do a good job.
MAN Truck & Bus Danmark A/S
MAN is among the leading manufacturers of commercial vehicles. MAN Truck & Bus Danmark A/S is a subsidiary of the MAN Group and part of the VW Group. The Danish company sells and services trucks, vans and buses in Denmark. We are 250 employees spread over the head office in Greater Copenhagen and six branches.

---
What is it like to be a mechanic at MAN ? See what your future colleagues are saying...
---
Do you want to join us?
Feel free to contact us, .. we'd be happy to invite you for a cup of coffee!
See contact persons here:

Greve: Martin M. Andersen, branch manager, mobile: +45 2161 9146
Avedøre: Michael Blankholm, branch manager, mobile: +45 2922 0061
Tilst & Kolding: Johannes Boje, branch manager, mobile: +45 2010 8089
Padborg: Jean Wesemann, branch manager, mobile: +45 2010 8080
Esbjerg: Thomas H. Jensen, branch manager, mobile: +45 2010 8087

You can also send us an email to: man@man.eu.

We are looking forward to hear from you!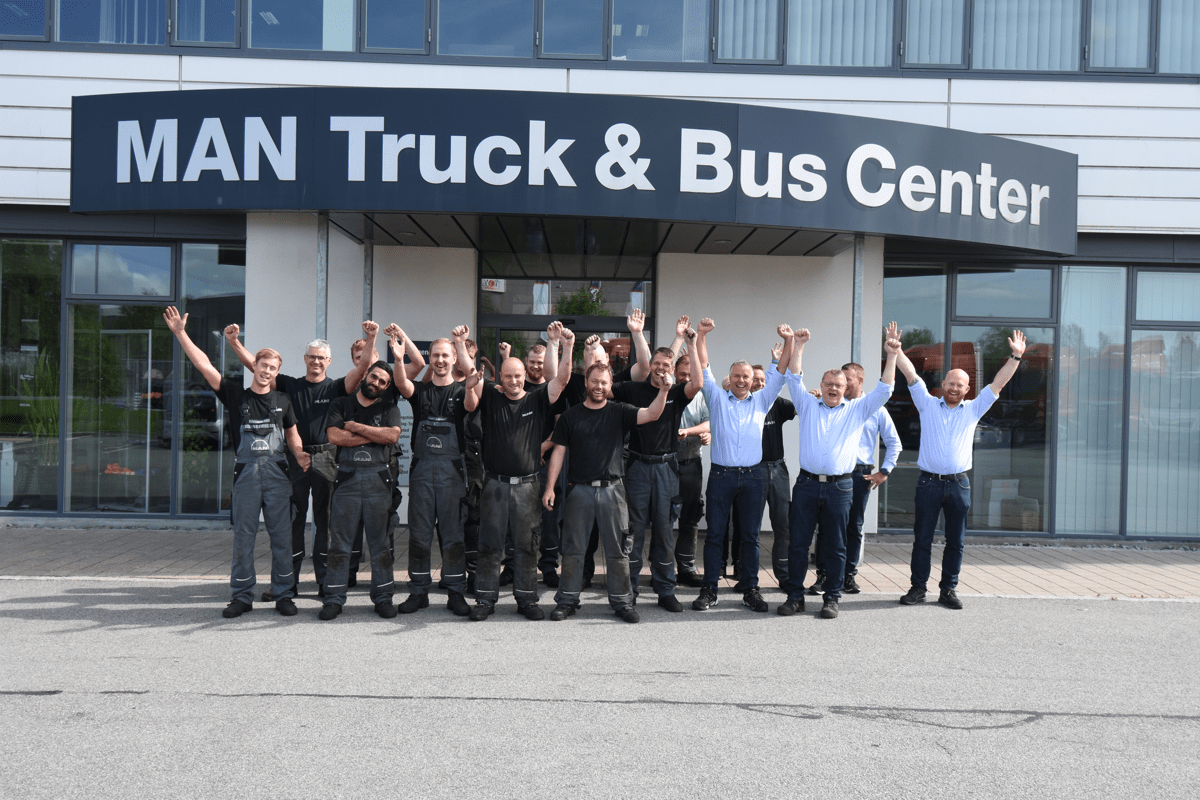 ---
---
MAN – med en stolt historie
Vidste du at MANs historie går mere end 250 år tilbage? I 1898 fusionerer to sydtyske maskinfabrikker under navnet Maschinenfabrik Augsburg-Nürnberg og heraf stammer de tre velkende bogstaver MAN, som vi kender dem den dag i dag.

I slutningen af 1800-tallet ansættes en ung, håbefuld ingeniør ved navn Rudolf Diesel, der opfandt det princip til forbrændingsmotorer, der i dag bærer hans navn og MAN fabrikken gav ham ressourcer til at realisere princippet.

For lidt over 100 år siden begyndte MAN således en ny æra. I dag er MAN en international koncern og en af verdens førende producenter af erhvervskøretøjer

Mechanics
Become part of our professional team at MAN Truck & Bus Danmark
Indlæser ansøgningsskema